Posted:
April 5th, 2011 |
Author:
Hilary Mason
|
Filed under:
Snippets
|
Tags:
rstats
,
software
,
tools
|
10 Comments »
We're often asked what our tool stack looks like. Robert Muenchen over at r4stats has a study of the most popular data analysis software.
He looks at factors as varied as traffic on the language mailing lists, number of search results and web site popularity, sales, and finally surveys of use. For example: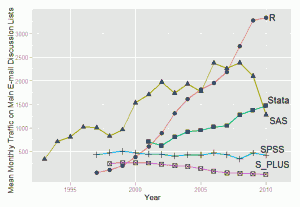 It's interesting to think which of these factors indicate greater adoption. Don't let me spoil it for you, but R comes out looking good across the board.
---